My Nails
I'm still keeping up with my nails and with all of the polish I've accumulated I'd better be doing two manicures a week for the next year.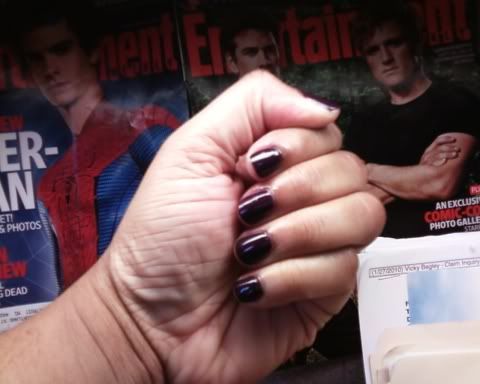 This one was from late last week/early this week. Wet 'n Wild - Disturbia. Meh. It's a blackened plum color that I thought had some shimmer. Well, there's shimmer, but it's not discernable unless I have my nails all up close to my eyeballs. It's a perfectly nice color that suffered from not meeting my high expectations. (Am I excited about The Amazing Spiderman? Why do you ask?)
I must say though, WnW's Megalast line lives up to its name. I did all kind of work, cleaned the fish tank, you name it without nary a chip.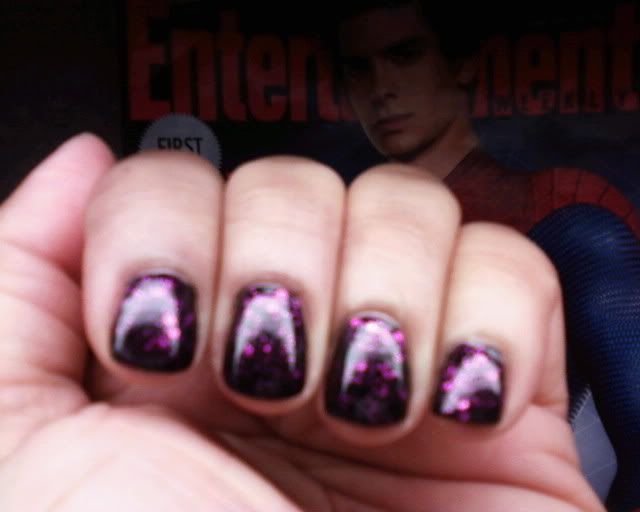 I like this one much better. Wet 'n Wild - Ebony Hates Chris, a shiny black creme, with two coats of Revlon - Scandalous, on top. I'm in love with Scandalous! A black jelly base with fuschia hex and round glitter. The glitter give it a pop without it being over the top. (Yes, my photo skills suck.)

Audio Books
I finished listening to Rob Lowes Biography,
Stories I Only Tell My Friends
. It was a great read! I didn't know much about Rob Lowe except from the impression he made with his Brat Pack fame, but I learned that he's more than just a pretty face. He's insightful and very grounded about his looks and stardom. He goes as far as to say that some of his interactions with fans, such as being mobbed by a group of girls, made him feel crappy instead of elated as he'd imagined it would. It's not that he doesn't love his fans or appreicate the adoration, he does, but he attributes some of these encounters to media hype, being the "it" actor and in his earlier brushes with fangirls, "group think and hormones being whipped up by Tiger Beat". He prefers real interactions with his fans and if I ever got a chance to meet up with him, I'd feel perfectly comfortable doing so as I wouldn't be trying to rip off a piece of his clothing or ask for an autograph while one of his loved one lays sick in a hospital bed (which happened...ugh).
The book glosses over a few of the more scandalous parts of his life, the sex tape scandal, his infidelities and his stint in rehab, but that was OK with me. I don't need sordid blow-by-blow details in order to get the full flavor of a person's life story.
Equally enjoyable is his recounting of how he got his break into acting, especially the audition process and shooting of The Outsiders which was one of my favorite movies in the 80's. So many crushable actors in that movie based on an amazing book (I read just about all of S.E. Hinton's books in my teens). Anyway, I enjoyed hearing his experiences on set, as well as general information about the audition process, how child actors are handled, how negotiations work, etc. I also though the story of how him and his wife, of now 20-years of marriage, started their journey together.
I seem to really enjoy biographies on audiobook, there's something about this format that works for me with this genre. Rob did the narration himself and has a uncanny ability for doing voices that made me laugh.
Let's see now I'm listening to Stephen King's time-travel thriller,
11/22/63
. I loves me some time-traveling books and I love Stephen King's non-scary-giving-Iggy-nightmares books (I'm am NOT a horror fan), so I have high hopes this will be a good one.
Crafts
It's time for the new rounds of knitting games. Somehow I got mixed up with the Nerd Wars sign ups, so I'm not participating this tournament and am a little salty about that. But it's all a go for the Starfleet FAC and I'm working on chemo caps in colors for men. Actually I'm currently looking for the one I started as I've misplaced it somehow.
That is all for now...until next week!