Look at me all up-to-date with the Drake lyrics, lol. My daughter would be proud, or embarrassed one or the other.
Alrighty, I got my hair done in kinky twists with extensions: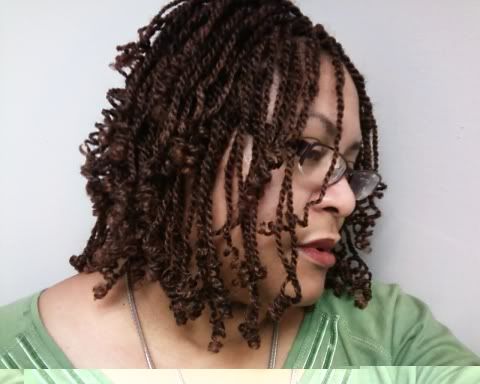 It goes without saying that I hate this picture. What am I doing with my mouth? I can't stage a photo if my life depended on it. However, I love my hair. The girls used a different color this time, a mix of reddish-brown and black. They layered it quite nicely too.
(Is that a look of sanity? I don't think so. Plus, Photobucket did something weird with the picture, but whatevs)
After my hair grows out of this style I'll be giving it a rest from the braids to prevent hair loss. I'm not sure what I'm going to do with it, but I'm researching now.
On my lips is some Cover Girl lip stain. I don't know exactly which line because I got it out of the clearance bin. Somehow my lips evolved to kind of hate the feeling of lipstick or lip gloss but I love the stain. I can't feel it on my lips, but they are soft (which they always were even when I wasn't wearing lipstick. No crusty lips here)and have color to them.
I'm totally flipping out on the nail polish, I'm picking them up whenever I shop, I'm checking out the blogs on the new colors. You know a geek has to go all the way with whatever they do. It's fun! I've worn tips before but I prefer my own relatively short nails and I have some crazy colors on the way.
I'm wearing China Girl Ruby Pumps with an Orly Bonder basecoat to prevent yellowing and chipping (which didn't stop the chipping) and a Seche Vite top coat, that is supposed to be fancy, but seems like just another top coat to me.
I recently bought those silver stackable rings at a great discount from a co-worker. I think I'll buy more, you can get lots of looks from stackables.
Ok, until next time!